Van Life With a Dog: Benefits, Challenges & Must-Have Essentials
I have loved experiencing van life with a dog. Prior to living in my van with my golden retriever, Oscar, I had loads of questions. I wanted to know if I can leave my dog alone in my van, how to keep my dog cool in a van, and if dogs are allowed in national parks? The list goes on.
Moving out of a house and into a van is exciting! It's also stressful. There's a huge learning curve (where do I shower, where am I sleeping tonight, can I find a gas station before my tank runs dry?) even before you throw a dog in the mix.
My goal for this guide is to give you all the information you need in order to feel confident and comfortable (and not anxious at all!) about living on the road with a dog.
In this post I share the benefits and challenges of living in a van with your dog, considerations when leaving your dog alone in your camper and the essential items you need for your van dog (some of them aren't obvious but are super useful.)
Benefits to Van Life with a Dog
The benefits of van life with a dog are companionship, safety and exercise! Other benefits include: a quiet backseat driver, a trail buddy for hiking, and a pre-bedtime bed warmer.
Companionship
Having your best friend with you as you travel is always comforting. My pup, Oscar, keeps me on a schedule- he never forgets when it's dinnertime (and he ensures I never forget by reminding me exactly 30 minutes prior to our mealtime)- and he's always looking for someone to play with or take him for a walk. There's definitely a richer quality to life with a dog to keep you company.
Security
Dogs have far better senses than we do, so they're able to notice an approaching person or animal before you do. Oscar lets me know when he senses something so I know to be more alert as well.
Additionally, the mere presence of a dog can deter would-be bad guys from approaching you- no one wants to mess with an unpredictable dog protecting their human.
Healthier Habits
Lastly, a dog needs exercise. I have a tendency to get into focused work mode and let hours pass before I realize I haven't moved and my foot is asleep. Having a little "boop" nose-nudge from my dog helps remind me it's time to walk and enjoy some fresh air … and to stop taking life so seriously.
Challenges to Van Life with a Dog
Being responsible for the safety and comfort of a dog while living on the road comes with it's own set of challenges, including limitations on where you can travel and a much messier van.
Weather
Without a dog you can easily escape hot or cold temperatures by spending the day in a library of cafe.
With a dog your options are more limited. In extreme heat or cold you can't leave your dog in a van. Instead, you'll have to find dog-friendly places where he can accompany you, continuously travel with the moderate weather or pay for a pet-friendly hotel room to ride out the heat wave.
National Parks
One of the largest obstacles I face when it comes to traveling with a dog is National Parks that aren't very pet friendly. Most National Parks don't allow dogs on hiking trails (exceptions are usually made for developed areas like paved paths, bikeways, roads, etc) which means I have to leave my dog behind if I plan to complete a trail in a National Park. Sometimes the weather allows for this, and other times it's just not an option for me. You can find pet policies for each National Park here.
An additional hurdle that larger National Parks present is their shuttle systems- basically leaving the van in a parking lot and riding a shuttle to the trail head. I will never do this as it requires me to be reliant on a shuttle schedule (something I have absolutely no control over) to get back to my van if something changes and I need to get to my dog immediately.
In this case, there are a few alternative options. Some National Parks open trailhead parking during the off-season and taking a shuttle isn't required, or they have year-round parking available at the trailhead on a first come, first served basis and if you get there very early (typically before sunrise) you can grab one of the coveted spots!
AllTrail reviews for the trail you're interested in are a great way to tell what time parking is usually at capacity.
Travel Restrictions
Having a larger van dog also means accepting that you'll drive everywhere. My dog is too big to be allowed on a plane, and I refuse to crate him in the cargo hold (the safety of this is highly debated, but for me it's not a risk I'm willing to take, and it's not something I think Oscar would feel comfortable about regardless of the safety aspect- he's far too clingy.)
This might not be an issue for some (especially if your dog is small enough to be allowed in the plane cabin), but if you need to make a quick trip home, want to go on vacation, or have a business meeting you won't be able to fly with your dog.
Without a dog you could park your van at the airport and jet off anywhere you want, but with a dog you'll either need to drive or make arrangements for a sitter.
Dirt
Lastly, prepare for your van to be under constant attack by mud, dirt, water and fur. If I could train my dog to take his shoes off before getting in the van I would- but he's not that into shoes. Instead, I sweep and vacuum multiple times a day.
Another thing you'll want to consider is a shower in your van.
Keeping the van clean is an uphill battle I will never win. Oscar drags dirt in faster than I can sweep it back out.
On that topic… bedding and cushion covers go through the laundry far more frequently than they would without dirty paws walking all over them. I was blissfully unaware of how expensive laundromats were before vanlife- and now I'm painfully aware of how much money I spend washing the same bedding I washed a week ago.
How to do Van Life with a Dog
If you're traveling full-time in your van there will be times when you have to leave your dog alone in your vehicle (grocery shopping, taking a shower, a dentist appointment, etc.) There are several things to consider in order to make this a safe and comfortable experience for your dog.
Build Considerations for Van Life with a Dog
You want to make sure your van is well insulated. There's a big difference between an insulated vehicle and a non-insulated vehicle. A van with good insulation will maintain its temperature far longer than a van without.
Air flow will also help keep your dog comfortable in your van. Make sure your van has windows that can open as well as a roof vent fan that can exhaust warm air out. Ideally, plan to have these at either end of your van so you can move as much interior air as possible.
If you will be in warmer clients often, it may be worth installing a RV roof AC. I have an AC unit in my van that can be powered by my batteries – it's a big investment and a huge draw on your battery bank, but it has come in handy a few times and gives me peace of mind that my dog isn't overheating when left alone while I run a quick errand.
Tips for Leaving Your Dog Alone in Your Van
Check the weather
Always check the weather forecast before you leave your dog alone in your van. If it's too hot outside for your dog to be comfortable then rearrange your plans. Errands can be run in the evening after the sun sets, or first thing in the morning before the heat picks up.
Park in shade
Park in shade. Without the sun directly warming up your van the interior temperature won't rise as quickly and it will also stay closer to the outside temperature instead of roasting like an oven in the direct sunlight.
Use window covers
Put insulated covers on the windows. The windows are where you lose most of your temperature regulation. Even simple homemade window covers (like Reflectix cut to the size of your window) make a big improvement in keeping the temperature steady.
Turn on fans & AC
Turn on the fans. If you have a roof vent, turn it on to exhaust so it pulls the hot air out. This creates a vacuum of air flow in your van, so you also need to open a window. It's best if the open window and vent fan are farther apart from each other so more air is moving around the van. In addition to a roof MaxxAir fan I have wall mounted fans that provide additional air circulation.
Turn on the AC if it's too hot outside. If you have a roof AC unit that operates from your battery bank, turn it on when you leave. If you don't have a roof AC you can turn on your vehicle and run the AC to cool down the interior temperature lower than you need to, which will buy you some time to run your errand before the van has warmed up too much.
Keep the water bowl filled
Fill your dogs water bowl. Make sure you top up the water supply for your dog so he doesn't run out while you're away.
Use a security system to monitor
Consider a security system with cameras and a temperature monitor. My security system allows me to check in on Oscar while I'm away. I receive a phone alert if the temperature in the van exceeds the range I set. I'm also alerted about fire, CO2 and unauthorized entry.
Van Life Essentials for Living on the Road with a Dog
This no spill water dish is perfect for van life with a dog. Even on the worst washboard roads I never have spilled water!
It's nice to have one less thing to worry about when prepping the van to drive. I can leave the water out for my dog to drink whenever he wants to, even if we're on the road.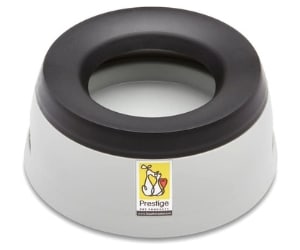 A waterproof dog blanket is a lifesaver for your cushions and bedding- and much easier to throw in the laundry.
Eventually it's going to rain and your pup is going to come in with wet and muddy paws. I didn't have this the first summer in the van and my bedding and cushions were always wet and dirty.
This isn't negotiable 😜 you NEED this.
I thought I could survive with a broom but I was very, very wrong. Fur gets EVERYWHERE. A handheld vacuum cleaner is probably the thing I use the most in the van each day.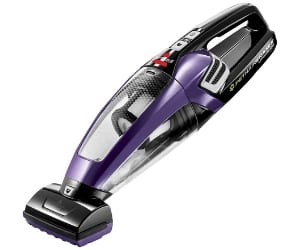 Every time my dog wears his backpack he gets so many compliments. I only use this for longer hikes when he needs to have a snack or meal and lots of water- this way he can carry his own! (And he always gets very excited when I get it out of the cabinet)
Extra perk: he can also carry out his own poop 💩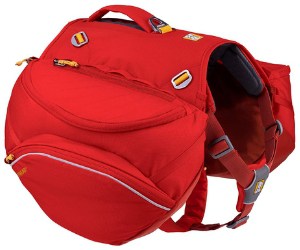 A simple long line comes in handy. This is one of my most used items. It doesn't need to be fancy, just long. When I need it to be shorter I just put a knot in the middle of it to shorten.
On days when I have lots of work to do and can't keep an eye on my dog constantly I use this line to tether him to my van. He has plenty of leash and can still explore around our campsite but I don't have to worry about him wandering off or hitchhiking out with the first dog friend he makes.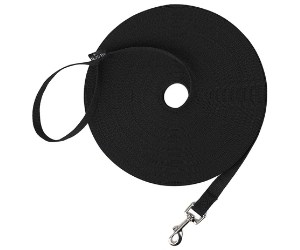 A great addition for long hikes is this hands-free leash. I like the Kurgo model because it's incredibly adjustable and can be worn several different ways.
I prefer to wear it cross-body but it can be used as a leash, a regular line, and can be worn around your hip.
If you plan to spend time wild camping you'll need a plan for holding onto dog poop until you can dispose of it. Or, in many places, you could also bury it. ?

I like this dog waste holder because it has a magnet that will hold it to the outside of your vehicle so you can store your waste outside where the smell won't stink up your van.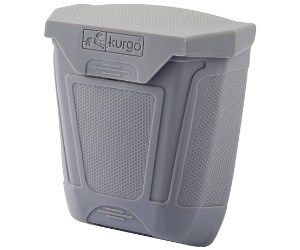 My biggest fear is losing my dog in an unfamiliar location. Any time he's outside he's wearing his GPS collar.
Luckily he's not a runner and I've never had to rely on the GPS, but it gives me so much peace of mind to know that if he wanders off I'm able to find him.
Note: there are several companies that sell GPS collars. Make sure you get one that works on cell or satellite signal. You can't rely on wifi or bluetooth in remote areas.
A Bear bell is a must-have if you'll be hiking in Grizzly Country, but even in areas without Grizzlies it's a good thing to have so you don't accidentally startle any wildlife.
I usually have one on me and one on my dog. The nice thing about this model is the attached magnet that will silence the ringing when you don't need it (and will save your sanity.)
Another hike must-have is a collapsible water dish. I prefer the kind with the carabiner so I can clip it to the outside of my pack when it's wet.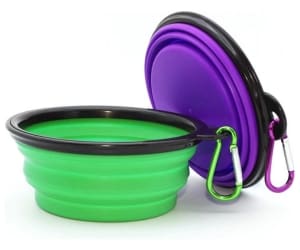 Can You Do Van Life With a Dog?
Absolutely! In fact, I think van life is even better with a dog.
What is the Best Dog For Van Life?
The breed is less important than the temperament of your dog. Having a dog that is calm, doesn't have high anxiety about travel and new surroundings, and a dog that gets along easily with other people and animals will make van life with a dog a lot more enjoyable.
Some people think larger dogs aren't good van dogs, but I disagree. My dog, Oscar, is a 60 pound Golden Retriever and he thrives in our van. The reality is that we aren't confined to the van 24 hours a day. Most of our day is spent outside, so the size of the dog is less of an important factor.
Can You Leave Your Dog in a Camper?
Yes, with obvious limits. You want to make sure that your dog is always safe and comfortable. If the weather conditions are too hot or too cold it's not safe to leave your dog in your camper. It's also a good idea to make sure that whenever you do leave your dog in your van that it's only for a short period of time and that you're close by.
I have installed a security system that alerts me through my phone if the temperature exceeds a range I set, if there's smoke or CO2, and if there's unauthorized entry.
How Do You Keep a Dog Cool in a Van?
Make sure there's good air flow and you aren't parked in direct sunlight. Keep their water dish full and if necessary, give them a cooling blanket.
Additionally, make or invest in insulated window covers. Windows in your van are where you'll have the most heat penetrate. Window covers will help keep the hot air out and the cooler air in. You don't need to buy expensive covers- you can accomplish the same thermal barrier with a cheap roll of reflectix cut to size.
How Do You Keep a Dog Warm in a Van?
Cover your van windows with insulated covers to keep the cold air out. If you don't have an ancillary heater (like a 12v diesel heater) you can turn on your vehicle to heat up your van. Because camper vans are insulated they'll hold heat for longer than regular vehicles.
Before I installed my 12v heater I'd run the van for a few minutes before bedtime to warm it up. The insulation holds enough heat in that the van would still be fairly warm in the morning even without having heat on all night in 30-degree weather.
Lastly, make sure your dog has blankets or a bed available for them to cozy into if desired.
Can You Take Your Dogs to National Parks?
Yes! Most National Parks allow leashed dogs in campgrounds, picnic areas, along roads and paved paths. Some National Parks also have a few trails where dogs are allowed. You can find the specific rules for each park on the parks website, or by asking a park ranger.
Can You Do Van Life With a Puppy?
Yes- it's not impossible but raising a puppy is hard even under normal circumstances.
Your puppy will need to be crated at times so your van needs enough space to set up a crate.
You also need to take your puppy out for potty breaks frequently for the first few months- which means in the middle of the night you'll need to go outside. Van life isn't inherently dangerous, but routinely being outside of your vehicle at night requires more diligence for personal safety.
Written by Claire Fleming
I'm a travel enthusiast who spends half the year in my self-built camper van with my dog, Oscar, and the other half at my home in Raleigh, North Carolina or on international adventures.