19 Innovative Van Office Ideas To Be Productive From Anywhere
If you're like most digital nomads living on the road, you need a place to get work done and be productive. A van office can be tricky to incorporate into your van build because of limited space. These van office ideas show innovative ways to include a desk workspace in a van, even with less than 100 square feet!
1. Custom Conversion Mobile Office Ideas (Nest Vans)
Nest vans offers a custom built-in mobile work space in their van, right behind the drivers seat. The perk to this van office is that you don't need to set it up each day.
2. Hideaway Van Desk
This fold up van office is very easy to clean up. The tabletop folds down to create storage underneath for your office supplies. As someone who has deliberated about where to mount a second monitor in my own van, I'm especially intrigued by the monitor mounted to the bottom of the tabletop.
3. Multi-purpose Van Office (Fun Life Crisis)
Not only is this bench seat also a great van office, but it has a dog feeding station with additional storage. I imagine easily working while seated, or standing at the pop-up countertop to break up the work day.
4. Dual purpose Sprinter Mobile Office (@goandlivefree)
This van has been a long-time favorite of mine. @goandlivefree use the bench seat and a swivel on the driver's seat to create a dual workspace in the front of their van. Their monitor is on an articulating arm so it can be easily stowed when not in use. They've even matched the upholstery on their cab seat and bench seat for a highly polished look to their van office.
5. Murphy Bed Camper Office Conversion
This van office takes the murphy bed to a whole new level. Having the bed up during the day allows easy access to the dinette bench seats, and also to the fold down tabletop hidden under the murphy bed base.
6. 3-in-1 Camper Van Office
Perhaps the most versatile van office space I've seen to date, this bench space behind the drivers seat is modular and serves many purposes. During the day it can be a dinette with work space and at night the workspace folds down to create a bench or a guest bed.
7. Mobile Office In A Van (Vanlife Customs)
If working outside is your preference this van office idea from Vanlife Customs is a great option. Simply use a Lagun table mount for an adjustable mobile workspace.
8. Elevator Bed Mobile Office Van (Sara and Alex)
Sara and Alex have the best of both worlds with a full dinette in the back and a van mattress on a Happijac lift – no need to make up your bed each day, just push a button and it lifts out of the way! Imagine having a major workspace at the push of a button.
9. Van Office Space For 2 (By Adrian Campos)
Adrian has a great set up for two people. There's a desk and a second monitor in the front of the van as well as next to the bed in the back. By having the monitors on moveable mounts they can be pushed out of the way when they're not being used.
10. Unique Camper Office Ideas
Cyrus has a great mobile office set up from the comfort of a hammock! With the murphy bed up during the day a simple piece of wood creates a workspace for their laptop. While this isn't the most ergonomic setup, it's definitely unique.
11. Sprinter Van Mobile Office
Snowmads van office also doubles as shoe storage. This unique fold up table located right behind the passenger's seat is a great way to maximize the cab seats, on swivels, to create more working space in your van.
12. Camper Van Office (@Sal.Paradise)
This van office from Danny uses the cab seats, on swivels, to extend the working space. Cab seats can be more ergonomic than the back bench seats, so having multiple seating options is a great way to keep it fresh throughout your workday.
Additionally, the fold out table is a great space saver and makes the desk versatile as it can be extended fully or only halfway. When it's not in use the entire table folds flat against the wall.
13. Convertible Desk In Van (Sydney Ferbrache)
Sydney's first van had a convertible dinette and bed. This is a great space saving way to have a large working space, it just means you have to put up your bed every morning before you can get started with your work day.
14. Space Efficient Desk In Van
While this van office seems like quite the ordeal to set up, you have to give points for ingenuity. Having a plywood board as the base which sits on top of the cab seats allows this digital nomad to utilize the headliner space for his mobile office.
15. Mini Van Mobile Office
Space in a mini van is at even more of a premium! This fold down workspace doubles as a kitchen countertop and a van office.
16. Custom Office In A Van (@happycampers2019)
@happycampers2019 has a bed that slides back and out of the way to reveal two bench seats and a pull out table, creating a versatile van office space.
The thing I love best about this is that for a single person the bed setup doesn't necessarily need to be made up and taken down each day, but there's plenty of room for guests or a partner.
17. Easy Mobile Van Office
If you don't have the clearance space in your slider door for the storage and office solution like Snowmads, you can still create a versatile office space using the b-pillar mount for a Lagun Table, available on faroutride.com.
18. DIY Mobile Office Van Ideas
Short on space? Consider a Lagun table mount and swivel cab seats for an easy van office with minimal effort.
19. DIY RV Desk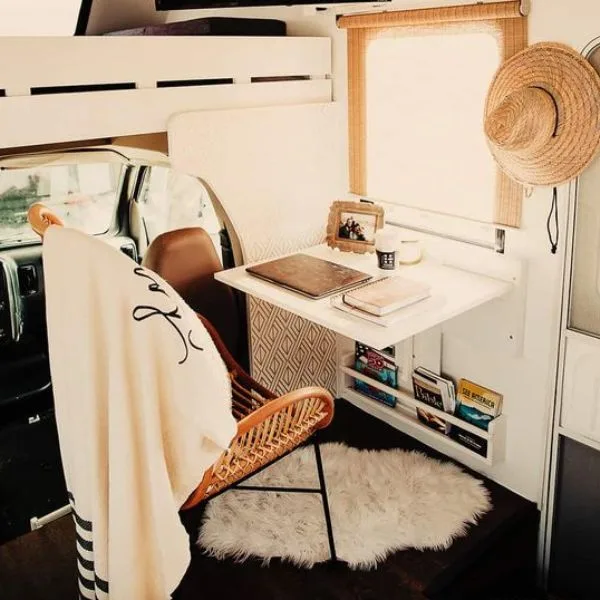 While not technically a van, this RV office is a fantastic use of space. I love the simplicity of a fold up desk, especially because it takes up almost no space when not being used as office space.
What To Consider For A Mobile Van Office Conversion
If you're considering building or converting a mobile van office in your camper these are a few questions to ask yourself.
How frequently will you use your van office space? If you plan to work full time from your van then having a dedicated space is important. However, if you'll mostly be relying on co-working spaces, libraries, cafe's, etc, then creating dedicated space for a desk in your van may not be the most effective use of your layout.
What type of work will you be doing? If your work is heavily reliant on a computer, do you need a second monitor? Is a large tabletop necessary? Or, if your work requires a large workspace to spread out, you'll want to prioritize surface space – this is especially important if your an artist or a trades person.
How flexible will your space be? This is primarily personal preference – are you the type of person who will set up and tear down your bed and office space each day? If not, having fixed spaces that are solely dedicated and don't require any conversion will be best.
What is your van building budget? Lagun table hardware and swivel seat bases can get fairly pricy, so depending on what your budget is for your DIY van office you may want to consider specific types of hardware.
How much building experience do you have? The more drawers, convertibility and custom carpentry you have, the more complex building skills are required.
Overall, having a van office is great for anyone living longer term in their camper. Additionally, it's a great feature for resale value if you plan to sell in the future.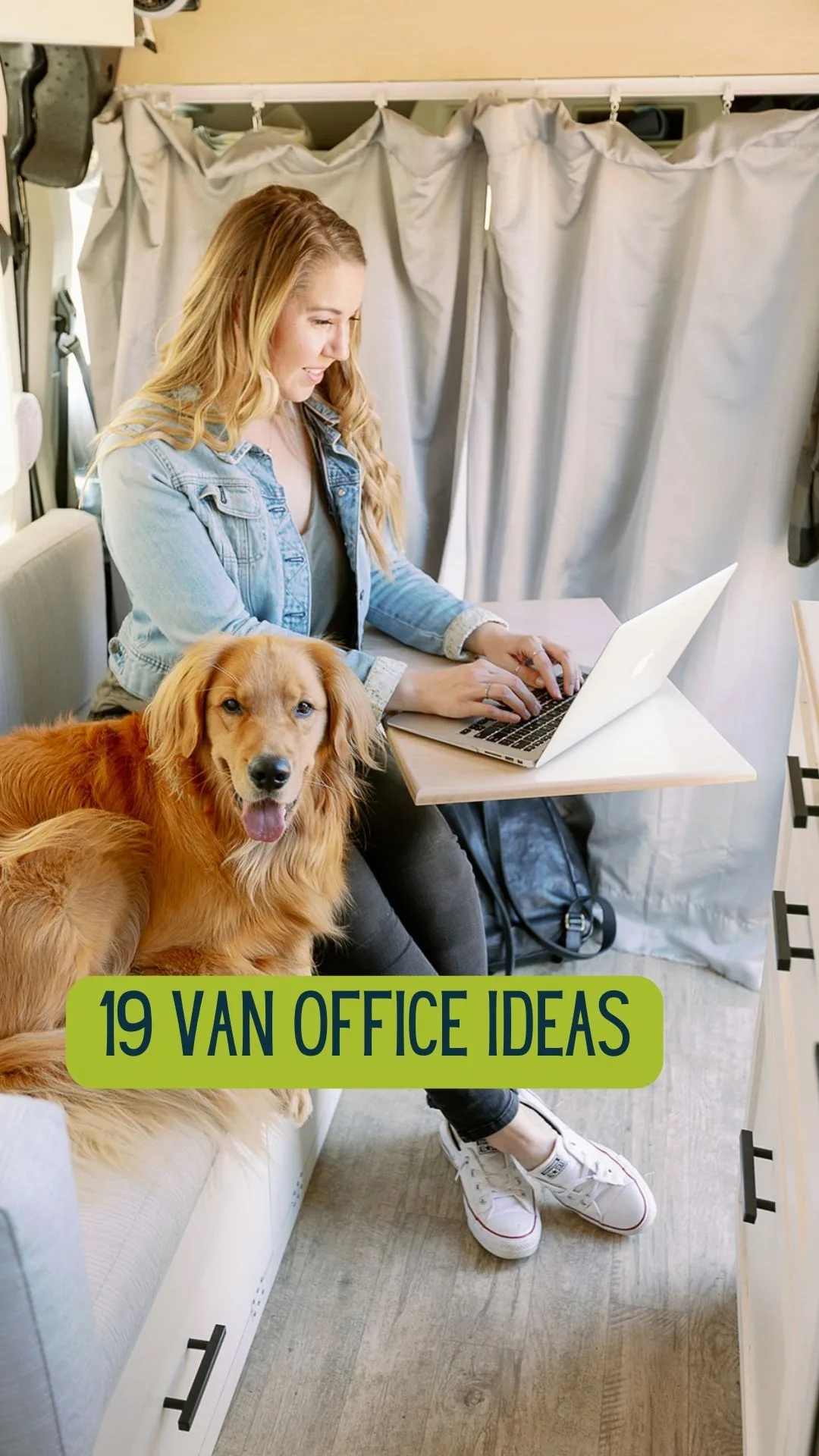 Written by Claire Fleming
I'm a travel enthusiast who spends half the year in my self-built camper van with my dog, Oscar, and the other half at my home in Raleigh, North Carolina or on international adventures.