Isotherm Campervan Fridge Review
If you're looking to build a van, the need for reliable and energy efficient refrigeration is a crucial component. Enter the Isotherm Cruise Elegance refrigerator, a top-of-the-line Isotherm fridge option designed with off-grid enthusiasts in mind. 
I installed the Isotherm Cruise Elegance 12v fridge in my DIY van build and I couldn't be happier with it! This review will highlight the refrigerator details, what I love about it, and what I'd change.
This isotherm refrigerator has an impressive list of features, including a well designed interior, incredibly low power consumption, and a sleek look. But does it live up to the hype?
Pros:
✅ Top quality
✅ 2-year parts warranty
✅ 5-year compressor warranty
✅ Adjustable storage organization
✅ Energy efficient
✅ Reversible door
✅ Available in multiple sizes
Cons:
❌ Expensive
❌ Less efficient use of space than a chest fridge
Isotherm Cruise 65 Elegance Refrigerator Review
The Isotherm Cruise 65 Elegance refrigerator is a high-quality refrigeration system designed for marine use and widely used in RV and Van Life crowds. It is built to withstand the harsh marine environment and it's also capable of withstanding bumpy washboard roads and frequent ambient temperature fluctuations.
This is my detailed review of the Isotherm Cruise 65 Elegance refrigerator two years after I installed it in my self-converted camper van.
Isotherm Fridge for Van Design and Build Quality:
The Isotherm Cruise 65 Elegance refrigerator has a sleek and modern design that is perfect for van life. The door panel comes in black, stainless steal, white, and a wood look. If you get bored you can change the door panel- how cool is that?!
I selected the black door panel, which matches the other fixtures in my van. Additionally, I was worried that in such a tight space I would dent the stainless steal to smithereens.
There is only one design flaw I've had to date. The door latch doesn't always lock closed.
I now know I need to push the door until I hear the latch "click". Otherwise I end up with groceries strewn across the van when I make a tight turn.
Technically, there's nothing wrong with the latch – when it's pushed in correctly it functions 100% of the time, but I do wish it was easier to engage the latch.
One feature I love are the adjustable door tabs. The tabs allow you to secure bottles so they don't fall over while you're driving. It took me a few months to realize these tabs slide, but once I noticed I was able to store a lot more food in the door shelf!
👇 Buy my favorite fridge for van life! 👇
Isotherm Fridge Capacity and Storage:
The Isotherm Cruise 65 Elegance has a storage capacity of 65 liters (2.3 cubic feet), which is enough to hold a decent amount of food and drinks for 1 or 2 people for up to a week.
In my experience, I'm able to hold enough produce for myself for just over 7 days if I plan really well and utilize my insane Tetris skills.
After I buy groceries there's a few additional steps I take to ensure everything will fit in my refrigerator. Things like cutting my crate of 12 eggs into two smaller crates of 6 eggs so they'll fit better, taking things out of the packaging box that has a lot of empty space, rolling air out of my spinach bag, etc.
It's do-able but it's not effortless. It's one of the tiny living habits I've learned to embrace.
In my next van build I'm strongly considering upgrading to the 85L so I'm able to be off-grid for longer periods of time.
It's a lot easier to put non-perishable things into the empty space in a refrigerator than it is to put perishable items into a non-refrigerated cabinet. I can eat my crackers cold, but I can't eat chicken that's been on the countertop for 4 days- yuck!
85L would give me more flexibility without sacrificing much in the same of storage space.
👇 Consider the larger Isotherm Cruise Elegance 👇
Next, the refrigerator has adjustable shelves that allow you to customize the interior to suit your needs.
My favorite feature is the trapdoor shelf which creates space for your wine or champagne bottles to stand upright! This neat update means your bubbly doesn't roll around while you drive!
Additionally, the Isotherm refrigerator has a built-in freezer compartment that is perfect for storing ice or frozen food items.
I'm able to fit a pint of ice cream in the space!
And unlike some competitors who claim to have freezers, this one *actually* keeps things frozen. I'm also able to make ice cubes in my teeny tiny ice cube trays.
isotherm fridge power consumption:
The Isotherm Cruise 65 Elegance refrigerator is incredibly energy-efficient (the primary reason I bought it!), consuming only 360 Wh/day. It has a low power consumption that is perfect for vans and RVs that rely on solar power.
The fridge features an intelligent fan that helps to distribute the cool air evenly, which minimizes energy waste and helps to maintain a consistent temperature throughout the refrigerator.
Isotherm Fridge Noise Level:
The Cruise 65 Elegance is super quiet, producing only 38 dB of noise. This makes it ideal for use in close quarters – which is good, considering it's 3 feet away from my bed.
Additionally, the fridge has a built-in compressor that is vibration-free, which further reduces noise levels and helps to extend the lifespan of the fridge.
The only time I ever notice when the compressor turns on is if I'm trying to fall asleep – and even then, it's enough to notice but not enough to bother me. However, if you went to too many concerts in your 20's you won't notice a thing.
👇 Buy my favorite fridge for van life! 👇
Isotherm Fridge for Van Installation:
Installing the Isotherm fridge was the easiest part of my entire electrical system. I have the refrigerator set up on its own circuit.
The fridge comes with a 12v quick-disconnect pigtail. I ran my own electrical wires from the fuse box with quick disconnect ends to the cabinet the Isotherm Cruise 65 Elegance would be installed in.
I prefer the quick disconnect wire connectors because it allows me to connect my appliance to my electrical system in 10-seconds, while still giving me the option to easily remove the refrigerator from the van (I haven't had a reason to do this yet – but if you were winterizing your van you may find it helpful.)
There are two different methods of install for the Isotherm fridge: mounting flanges or an internal anchoring system.
The kit includes 3 trim pieces (mounting flanges) for the top and both sides. The trim attaches to both the refrigerator frame and the van cabinet frame to hold the refrigerator firmly in place.
Alternatively, you can install with the internal anchoring system by running screws through the side walls of the Isotherm fridge and into the cabinet to keep the refrigerator from moving around.
My van layout didn't have enough space for the supplied trim pieces. They add about 3/4″ to each side (that I hadn't planned for) which interfered with my adjacent cabinet doors. Instead, I opted for the second installation method; the internal anchoring system.
The inside of the Isotherm Cruise has 4 plugs that cover the pre-molded holes for your anchoring screws. They remove easily and then you just need a screw long enough to run through the fridge wall and into the cabinet anchor. Replace the plug covers when you're done for better insulation.
👇 Buy my favorite fridge for van life! 👇
Isotherm Cruise 65 Elegance Fridge Dimensions
20.9″ Height x 17.7″ Width x 19.4″ Depth (depth does not include door).
Depth with 2″ door is 21.4″. This was confusing to me before I received the delivery and installed. The installed refrigerator will sit in your cabinet 19.4″ deep and the door will sit proud of your cabinet front by 2″. The Isotherm refrigerator door front is not flush with your cabinet frame.
If you install with the mounting flanges this isn't negotiable. If you install with the anchoring system you could plan to push the entire fridge back 2″ making the cabinet depth required 21.4″ and the front of the door flush with the cabinet front.
The Isotherm Cruise 65 Elegance Fridge weighs 44 lbs.
What Does the Isotherm Fridge Cost?
The Isotherm Cruise 65 Elegance fridge sells for over $1600 USD.
Isotherm Fridge Features
For such a small package the Isotherm Cruise Elegance line comes packed with features!
Freezer compartment with hands-free door that stays open on it's own
Easy to clean and defrost
Warranty – 5 Years Compressor,2 Years Parts
Customizable refrigerator door
Extremely energy efficient
Interior light
Quiet operation
Reversible door for best fit in your rigs existing layout
Can operate on AC or DC
Built-in fan-cooled Danfoss/SeCOP compressor
Room for a pint of ice cream in the 4 liter freezer
Adjustable shelf with hatch for tall bottles
👇 Buy my favorite fridge for van life! 👇
Things to Improve on Isotherm Fridge
Latch Design
I'd like to see improvements to the latch function. Currently, it's too easy to think the door is fully shut and latched only to find out on a sharp curve that, in fact, it is not.
Freezer Optional
There are generally very few things that I keep in the freezer so having the option to remove it would be nice. While some Isotherm models come without the freezer, I'd prefer an "I'm an indecisive person who sometimes wants the freezer and sometimes doesn't want the freezer" option.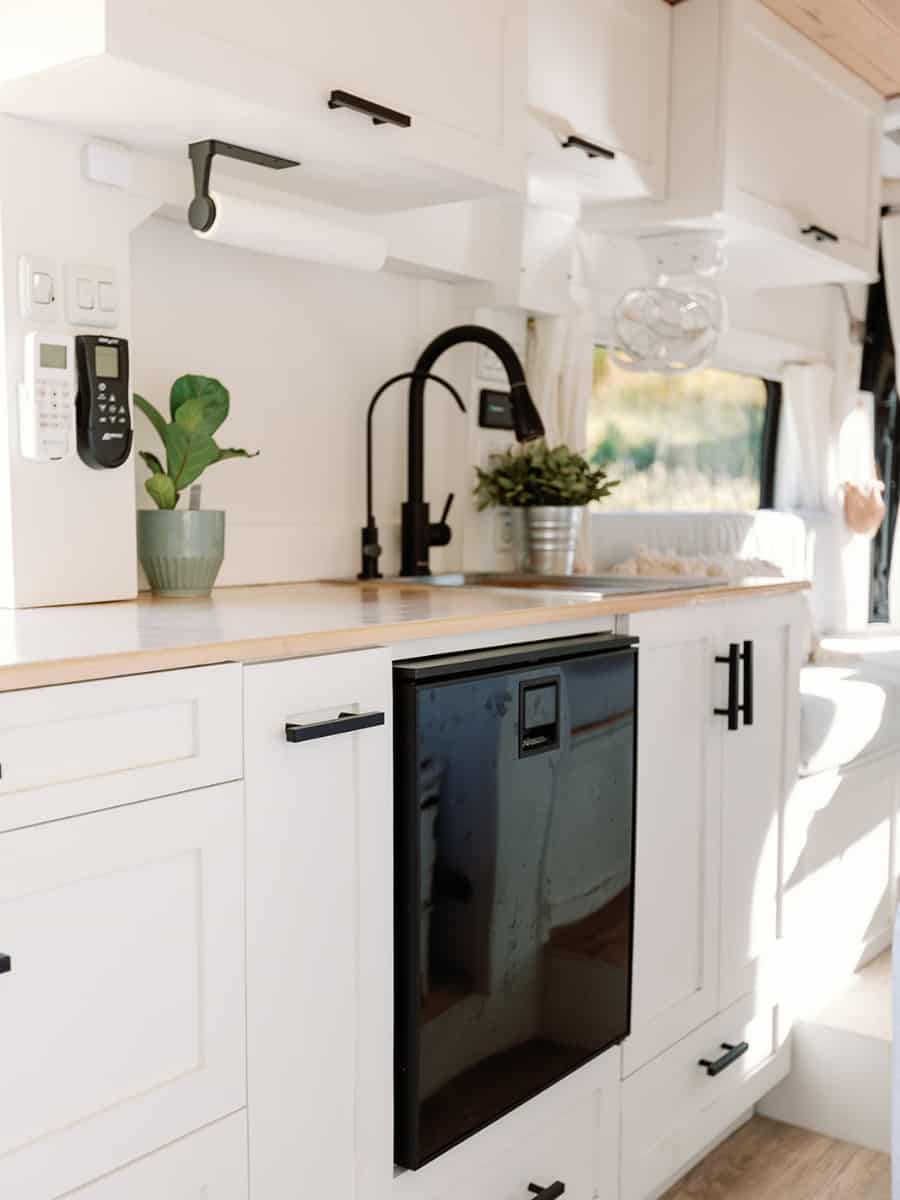 Conclusion: Is an Isotherm Fridge for Van Life Worth It?
If you're a person who eats food then yes, the Isotherm fridge for van life is worth it. It's an investment piece, that's for sure, but it's made with quality materials and excellent design.
Planning a van build?
I have tons of resources and guides to help you navigate your van build choices, pick the best materials for your needs and provide inspiration, lessons learned, and tips from life on the road.
Check out these additional resources
Written by Claire Fleming
I'm a travel enthusiast who spends half the year in my self-built camper van with my dog, Oscar, and the other half at my home in Raleigh, North Carolina or on international adventures.