3 Days In Glacier National Park Itinerary
3 days in Glacier National Park is the perfect amount of time to see the highlights and explore a few epic hikes. During my recent trip to Glacier National Park, I squeezed quite a bit into a short few days, and you can to!
In this article I share the best things to do in Glacier National Park if you have 3 days, and also if you only have 2 days or are lucky and can spend 5 days! There's an itinerary for every trip and some helpful tips, too!
Know Before You Go: Glacier National Park
Best Time To Visit: The best time to visit Glacier National Park is between July-September when the weather is favorable and the trails are open.
Going-To-The-Sun Road, the only road that cuts through the park and connects the East and West sides, does not open until July each year. Many of the hiking trails on this list are only accessible via GTS road.
If you're interested in Glacier National Park waterfalls then July is the best time to visit, when snowmelt is best.
If you're hoping to avoid crowds I recommend going to Glacier National Park in September, after Labor Day (this is what I did).
Where To Stay: There are 13 campgrounds with over 1,000 sites to choose from within the park. Some popular ones include Apgar, Many Glacier, and St. Mary. Reservations can be made for some sites, while others are first-come, first-served.
If you prefer to stay outside of the park there are many options on the East and West sides. The West side of the park is more popular and has more options for where to stay at Glacier National Park.
How To Get There: The closest airport is Glacier Park International Airport (FCA), located in Kalispell, Montana, approximately 30 miles west of the West Entrance. However, most people fly into Missoula International Airport (MSO) to save money. MSO is approximately 150 miles south of the park.
How To Get Around: The best way to get around the park is with the free NPS shuttle service. The shuttle only runs during peak season, so if you plan to arrive before July or after Labor Day then you'll need to bring your own vehicle. No reservations are required for the shuttle. It operates on a first-come, first-serve basis.
It's possible to drive your own car, but you'll need a timed-entry pass during peak season (more on this below). Driving Going To The Sun road has a vehicle limit of 21 feet long and 8 feet wide. Also keep in mind that parking in Glacier National Park can be extremely challenging year-round. Even during off-peak season I still had trouble finding parking spaces at most trailheads.
Reservation System: Between May 24 – September 8 vehicles entering Glacier National Park are required to have an advanced vehicle reservation. Reservations can be obtained through Reservation.gov up to 6 months in advance on a rolling window.
Safety: Glacier National Park is a safe park, but it has abundant wildlife, including Grizzly bears. Always hike with bear spray readily accessible, and know how to use it.
Entrance Fees: Glacier National Park entrance fees are $35 per vehicle (good for 7 days). During the winter season this pass is only $25 (Nov-Apr).
Planning A Trip To Glacier National Park
Congratulations! You're planning a trip to Glacier National Park – my favorite national park in the United States. You're in for a great trip. Below I've outlined the best things to do if you have a 3 days in Glacier National Park. If you have a few more days (or only 2 days) I've also provided additional itineraries at the end of this article.
3 Day Glacier National Park Itinerary
What is the best way to spend 3 days exploring Glacier National Park? With the highlights! Let me expand on the best things to see in Glacier National Park during your short visit.
Is 3 days enough for Glacier National Park?
3 days in Glacier National Park is enough time to see the highlights. You can explore Apgar Village, Many Glacier, drive Going-To-The-Sun road and hike several of the best hikes in Glacier National Park.
Day 1 – Itinerary For Glacier National Park, West Entrance
On your first day in Glacier National Park, plan to arrive early! This is the best way to beat the crowds, find parking, and to maximize your time at the park.
The West Entrance is the main gate and where Apgar Village, Apgar Visitors Center and several great hikes are located.

Because Glacier National Park is so large, each day of your visit will be focused on a different area within the park to make your limited time in Glacier as efficient as possible! Today, let's explore the West side of the park.
Avalanche Lake
When you arrive, head straight for Avalanche Lake. This trailhead gets busy before 8am so it's best to get as early a start as possible.
The trail to Avalanche Lake is just under 6 miles with about 750 feet in elevation gain. It takes most people 2-3 hours to complete this hike. While it's rated "moderate", most people can do this hike, even if you aren't in great shape. The trail is a moderate incline up the entire way to the lake.
When I hiked Avalanche Lake there were even people hiking with baby carriers, so it's definitely a do-able trail for most.
Once you arrive at Avalanche Lake, continue down the trail (it narrows through the brush) along the Western shoreline until you get to the South end of the lake. It's far less populated here and it's a great place to have a snack.
If you're brave this is also a good place to put on your swimsuit and take a cold plunge!
Trail Of The Cedars
After you've hiked Avalanche Lake Trail, take a walk along Trail of the Cedars. This is an easy .9 mile hike that's flat and takes approximately 30 minutes to complete. The trailheads for both Avalanche Lake and Trail of the Cedars start at the same location, which makes these two hikes perfect to pair together.
Apgar Village & Apgar Visitors Center
After working up an appetite hiking all morning it's time to head back to Apgar Village! This is also a great time to stop by the Visitors Center.
Pro Tip: I always stop by the visitors center when arriving at a National Park. This is a great way to get the most current information on what ranger-led hikes or activities are available during your trip as well as what the status of specific trailheads are. This is particularly important at Glacier National Park as some trails close for poor hiking conditions or recent bear activity.
While at the Visitors Center, pick up a paper map of the park and get a stamp in your National Parks Passport. I've had my passport since I was 12! It's a really fun way for me to keep track of the parks I've been to and when I visited.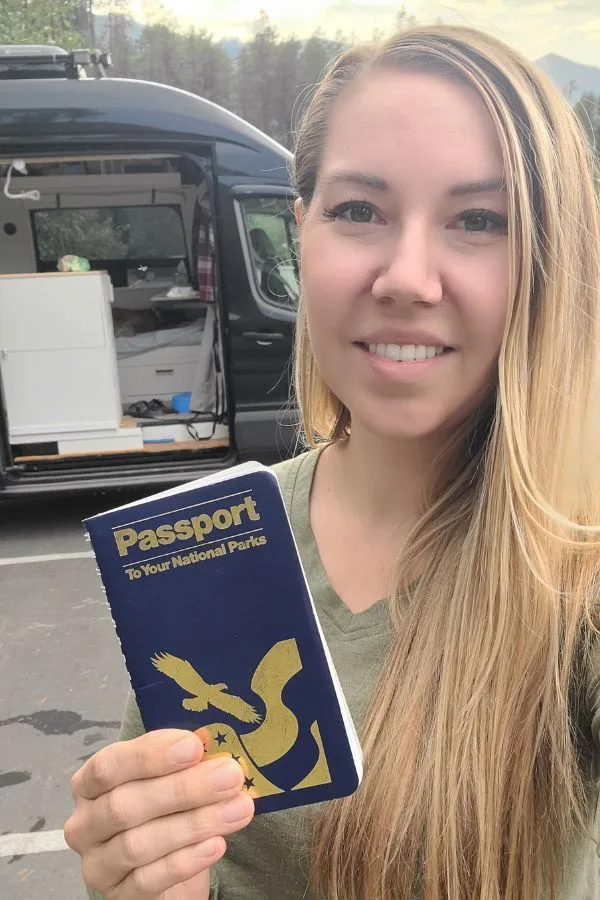 The Visitors Center has a very large parking lot. I recommend leaving your vehicle here and walking to Apgar Village. There's a lovely paved bike path to the village that is flat and only .3 miles. This will save you the hassle of trying to find parking near Apgar Village, which is almost impossible due to the very limited number of spaces.
Shop & Dine
In Apgar Village there are many shops and a few places to eat. I highly recommend getting a Huckleberry Ice Cream cone from Eddie's.
Huckleberry flavored everything is very popular in this area of Montana!
Rent A Boat
After enjoying the shops and restaurants it's time to explore Lake McDonald! There are several types of boat rentals available, including kayaks, canoes and motorized rowboats.
I recommend making a reservation as far in advance as possible. There are a limited number of advanced reservations. Alternatively, you can reserve a boat on a first-come, first-serve basis.
Johns Lake Loop Trail
Finally, end your day with Johns Lake Loop, an easy 2-mile hike near Lake McDonald Lodge. This hike takes you around Johns Lake and down McDonald Creek where you'll see some of Glacier National Park's best waterfalls.
Note: While you can reverse the order of items within this day's itinerary, I do highly recommend starting at Avalanche Lake as the trailhead has very minimal parking which will only become more difficult throughout the day. Do these hikes first, then double back to Apgar Village area where there is ample parking for your afternoon activities.
Day 1 Highlights: Avalanche Lake, Trail of the Cedars, Apgar Village, McDonald Lake Boat Rentals and Johns Lake Loop.
Day 2 – Itinerary For Glacier National Park, St Mary's And Logan Pass
Another early start is ideal for your second day in Glacier National Park.
Note: If you're staying on the West end of the park I recommend driving the Going-To-The-Sun road all the way through to St Mary Falls trailhead, which fills very quickly, to secure a spot. From the East side of the park this will be a much faster drive.
St Mary & Virginia Falls
The first hike of the day is one of the most iconic in the park! It's a 3.1 mile hike to St Mary Falls and Virginia Falls. You're able to take a swim at either of the falls, but it'll be chilly so remember to pack a towel and some warm clothes to change into.
Pro Tip: While the St Mary Falls parking lot is the closest to this hike, it's not the only option. The trails along St Mary's Lake all connect, so if the parking lot is full you can drive further East and park at Sun Point parking lot, or any of the roadside pull offs.
Logan Pass
Next, head up to Logan Pass on Going-To-The-Sun Road. If you're traveling during the busy season (July-September) I recommend taking the free park shuttle. Parking at Logan Pass can be very difficult and sometimes people find themselves circling for hours. Logan Pass is the trailhead for several hikes in the area, so it's a popular one. The shuttle picks up from St Mary Falls and drops off at Logan Pass, so it's the easiest way to get around Going-To-The-Sun road during the busy season.
Highline Trail & Hidden Lake Trail
There are two incredible hikes from Logans Pass – Highline Trail and Hidden Lake Trail. I recommend doing both if you're able.
Highline Trail is technically a 14.9-mile out and back hike and it's rated hard. However, with just 3 days in Glacier National Park there's not enough time to complete the entire hike.
Luckily the best parts of this hike are near the trailhead! During my trip, I hiked the first 3 miles of Highline Trail and found it very worth my time! From this hike you have 360° views of the park and it's breathtaking. I even saw a mountain goat!
After returning to Logan Pass from Highline Trail, pick up Hidden Lake Trail. This trail shares a path with Hidden Lake Overlook, until you reach the overlook and the full trail continues down to the lake.
The overlook trail is 2.7 miles and about 550 feet in elevation gain. The full lake trail is 5.1 miles and over 1,300 feet in elevation gain. Both will give you incredible views of the lake, but the full lake trail will get you all the way down to the lake where you're more likely to see moose.
I also saw bear tracks, but no bears, when I did this hike!
Logans Pass, and the hikes originating there, can be very cold. This part of Glacier National Park is at high elevation, so even during summer you can expect at or below freezing temperatures some days. Please pack in layers and do not forget hats and gloves!
Hidden Lake is a great place to eat lunch before climbing back up to the trailhead.
Drive Going-To-The-Sun Road
By now it's late afternoon and it's time for something epic. What better way to wrap up your second day in Glacier National Park than by driving Going-To-The-Sun road at sunset? This is the perfect time to see the beautiful GTS road and to avoid the height of the crowds.
Day 2 Highlights: St Mary and Virginia Falls, Highline Trail, Hidden Lake Trail and Going-To-The-Sun Road.
Day 3 – Itinerary For Glacier National Park, Many Glacier
Day 3 in Glacier National Park is time to focus on the Many Glacier area of the park. Most people say this is the most scenic area in Glacier National Park, and I have to agree. The Eastern half of Glacier is much more scenic with its dramatic landscapes.
There are several great hikes in Many Glacier, including my personal favorite, Grinnell Glacier.
Get an early start for this hike as it's a 10-mile hike with over 2,000 feet in elevation gain. Be prepared for some of the most beautiful views you've ever seen while on a hike.
My favorite thing about this hike (which is also my favorite hike in the United States to date) is how many beautiful vistas you're greeted with along the route – no need to complete the entire hike before you're rewarded!
The first two miles are mostly flat as they follow the shoreline of Swiftcurrent Lake and Lake Josephine. After that the trail tracks uphill consistently with a few areas that are fairly steep, but manageable. Throughout this hike I kept thinking that any skill level could complete this trail, just go at your own pace and you'll have no troubles.
After you've passed Swiftcurrent Lake and Lake Josephine you'll come across Grinnell Lake and the path winds along the mountainside. Eventually, Grinnell Glacier will appear around the bend, and if you're visiting during the early summer months you'll likely catch a glimpse of the water tumbling from upper Grinnell Lake down into lower Grinnell Lake from glacier and snow melt.
You're also likely to see big horned sheep on this trail, and possibly some mountain goats.
Be sure to pack in layers, this trail can get windy! I was so cold while hiking this trail in early September that I pulled every spare clothing item out of my backpack – something I've never done, even though I always travel with spare layers for emergencies. The wind was an emergency for me! Remember to pack gloves (or at minimum something to cover your ears) and gloves.
This trail ends at Upper Grinnell Lake near Grinnell Glacier. It's a bit windy here, so I recommend taking it in and then continuing back down the trail to the tree line before stopping for a snack.
In total, Grinnell Glacier Trail should take between 4-6 hours. By the time you reach the trailhead it'll be lunch time. Nell's, up the road near the Many Glacier campground, is a great spot for sandwiches and burgers.
After lunch it's time to get back on the trail! After all, the best hiking trails in Glacier National Park are located in Many Glacier.
If your legs are ready for another 10 mile hike then I highly recommend you consider Iceberg Lake (9.6 miles and <1,500 feet in elevation gain) which starts from Many Glacier hotel. This trail takes you to a stunning alpine lake where you can see icebergs floating in the water, even into the summer!
However, if you've exceeded your long-hike limit for the day (I don't blame you!) then another good option is Apikuni Falls and Swiftcurrent Nature Trail.
Apikuni Falls is a 1.8 mile out-and-back trail to a beautiful waterfall. This hike is short, but it does have modest elevation gain- between 15-25% grade most of the way up. I prefer to hike with poles on steeper grades to transfer some of the workout from my legs to my arms, and to help with stability on the descent.
Swiftcurrent Nature Trail is a 2.6 mile loop around Swiftcurrent Lake which is mostly flat. For .5 miles of this loop you'll follow the same trail as the Grinnell Glacier hike.
Both of these hikes can be done in under an hour, so you should have time for both! They can both be accessed from the Many Glacier Lodge parking area. However, if you can find parking at Apikuni Creek pull off you'll save yourself a 1.2 mile walk to the trailhead.
And now to end your final day at Glacier National Park on a high note! Just down the road, near Many Glacier Campground, is Fishercap Lake. This is an easy .3 mile trail along the Waterton Vly trail to reach the lake where you can often spot a moose! Moose like to visit this lake around dusk and dawn.
Day 3 Highlights: Grinnell Glacier Trail, Iceberg Trail, Apikuni Falls, Swiftcurrent Nature Trail and moose spotting at Fishercap Lake.
2 Days In Glacier National Park
What to do if you only have 2 days in Glacier National Park? Don't fear, two days is enough to see some great spots in Glacier. In fact, the first two days of this 3 day Glacier National Park itinerary are what I recommend if you're only visiting for 2 days.
Day One
On day one, explore the West side of the park near Apgar Village. This includes hiking Avalanche Lake Trail, Trail of the Cedars, renting a boat on Lake McDonald and ending your day with a stroll around Johns Lake Loop.
Day Two
On day two, get deeper into the park by taking Going-To-The-Sun road to St Mary Lake to see St Mary and Virginia Falls. Next up, a visit to Logan Pass, where you can explore a portion of Highline Trail before seeing Hidden Lake Trail (or Hidden Lake Overlook for an abbreviated hike). The encore of your trip is driving along GTS road as the sun begins to set and seeing the most beautiful parts of Glacier National Park.
Glacier National Park Itinerary 5 Days
What can you see in 5 days in Glacier National Park? A whole lot. With two extra days beyond the 3 day itinerary above, you can explore the Two Medicine area of the park and add another long hike in Many Glacier. Here's the revised version of 3 days in Glacier National Park for those with 5 days to explore!
Days 1-3
No change from Glacier Park itinerary above.
Day 4
Stay in Many Glacier and hike Iceberg Lake (if you didn't opt for this on day 3) or, if you've already done this hike, try Cracker Lake.
Cracker Lake is just under 13 miles roundtrip with a little less than 2,000 feet in elevation gain. And soooooo beautiful. This is also a hike that's more likely to have bear activity, so be sure to pack your bear spray!
Refuel from your morning hike with lunch at Many Glacier Lodge and enjoy the views of the water before taking a boat tour or horseback riding.
A boat tour will take you across Swiftcurrent Lake before a .2 mile trek to your second boat across Lake Josephine. This is a really unique way to learn more about the mountains, their ecosystems and the history of the land.
Horseback riding is always one of my favorite ways to explore new places. This activity is great for beginners or those with a bit more experience. If you haven't experienced trail riding before I highly recommend booking a horseback ride through Glacier National Park!
Both of these excursions are available during the summer months but require reservations far in advance due to their popularity.
Pro tip: If you're having trouble securing a timed entry vehicle reservation for Glacier National Park I recommend booking a tour in Many Glacier, which will grant you access (even without the timed entry reservation) to that area of the park for the day of your booked tour reservations.
Finally, head to your accommodation for the night. On the 5th day you'll be exploring Two Medicine. If you're looking to stay in the park then consider the Many Glacier Lodge or Two Medicine Campground.
Unfortunately, there are no hotel accommodations in Two Medicine. However, there are several options outside of the park, near Two Medicine, in East Glacier Park.
Day 5
Two of the best hiking trails in Glacier National Park are located in Two Medicine. Because of its out-of-the-way location it tends to have fewer crowds. These two trails are the perfect ending to your trip to Glacier National Park!
One, Pitamakan Pass, is longer, and the second, Running Eagle Falls, is an easy trail with a beautiful waterfall.
I recommend starting with Pitamakan Pass. This trail is just under 15-miles and has about 2,700 feet of elevation gain, which earns it the distinction of being a difficult trail. It's the perfect mix of shaded trail and open trails so you can see the vast landscape. Finally, you'll come upon incredible views of Pitamakan Lake from the top.
After a more strenuous hike, you'll enjoy Running Eagle Falls trail. In fact, this hike feels more like a leisurely stroll with only .7-miles and a whopping 29 feet in elevation gain. However, Running Eagle Falls is worth it, even if it isn't too difficult to get to.
The falls are also referred to as Trick Falls, because depending on when you visit you may see two waterfalls or only one.
During the early summer months when there is a lot of snow melt the waterfall runs very strong, which hides the lower falls from view. Later in the season, when the snow melt slows and the water runoff is less, a second, lower falls appear. In my opinion, this is one of the cooler waterfalls in Glacier National Park. This is a great place to take a dip in the crystal clear waters before wrapping up your epic trip to Glacier National Park.
Glacier National Park Itinerary FAQs
How many days do you need in Glacier National Park?
Glacier National Park is a huge park, but most people can see the highlights in 3 days. If you have more time, 5 days in the park is a good amount of time to see the highlights and complete a few day hikes.
What is the most crowded month in Glacier National Park?
The most crowded month in Glacier National Park is July, followed closely by August (based on park statistic data). In 2023, there were 715,000 visitors in July – or approximately 23,000+ visitors per day. August had 653,000 visitors, making it the second most crowded month in Glacier National Park.
While September and June are also busy months (550,000 and 514,000 visitors respectively) they are less crowded and only see an average of 17,000-18,000 visitors per day.
Is it better to stay in Glacier National Park or outside?
It's better to stay in Glacier National Park if you plan to hike, especially early in the morning. Glacier National Park is quite large, so even if you plan to stay right outside the park entrance you will still have quite a drive in each day.
Where Should I Stay In Glacier National Park?
Glacier National Park has 13 front country campgrounds and 7 hotels and lodges within the park.
Written by Claire Fleming
I'm a travel enthusiast who spends half the year in my self-built camper van with my dog, Oscar, and the other half at my home in Raleigh, North Carolina or on international adventures.